by Steve Gober
In March 2022, I logged onto worldbibleschool.org and was searching for Students in Malawi, Africa on the World Bible School Student Board. From that list I adopted a man named Juap William.
As it turned out, Juap was a Pentecostal preacher and I thought this might become interesting. As we went through the lessons, we began to exchange a few messages and Juap was asking some serious questions. He completed all seven studies of the "Master Series", but had not yet obeyed the Gospel. I did not want to give up on him. So as we continued to exchange messages, I would send him some more information on subjects he would ask about. We stayed in touch until I traveled to Malawi in July, at which time I invited him to attend a seminar I was planning for all WBS Students in Malawi and Mozambique. Juap and his wife both attended the seminar and at the end of the day he told me he thoroughly enjoyed the time and had learned a lot about the Bible.
He invited me to come visit his Pentecostal church and present the same material. We arranged a time when I could come and at the conclusion of the studies, Juap, his wife and 10 other members of that church were baptized into Christ!
Then Juap revealed to me that he also served as a bishop in the Pentecostal church and oversaw 16 other congregations. He wanted me to visit all of them and teach the material I had presented to him. My schedule would only allow me to visit one other location, at which, three more put Christ on in baptism.
Juap was so excited about his newfound faith and his discovery of truth. He said it all made sense now. He then shared his journey of faith with me. Juap was brought up as a Muslim, became interested in Christianity and began studying the Bible. He started attending a Presbyterian church, thinking any church claiming to be Christian would be ok, but never gave up on his search for truth.
In his studies, he learned that he needed to be baptized by immersion for the remission of sins.  However, the Presbyterian church only sprinkled and even that was not for remission of sins. So, his quest for scriptural baptism led him to the Pentecostals and that is where I found him. His heart was still open to learning the truth and when he heard it, just like the good soil Jesus talked about in Luke 8, he received it and is bringing forth fruit!
Sadly, I had to leave without visiting all the other Pentecostal congregations Juap was affiliated with, so I printed copies of all the studies I had presented and left them with him. I told him he would have to teach it to them. He met with all 16 churches the next week after my departure and presented the material to them. Later that day, he sent me the following email:
"I taught what you taught me from the Bible. All 16 branches have agreed and been converted. All are changing their names to church of Christ and are following the New Testament church. We all agreed to follow the truth, not because we want to please you, but God who sent you to us."
There were 389 souls converted from the error of Pentecostalism to true New Testament Christianity! Juap is continuing to study and teach as he and some of the brethren from the Tambala church of Christ in Blantyre, Malawi visit and encourage these new babes in Christ.
Little did I know on that March evening, about one year ago, when I adopted a WBS Student named Juap William that God would bring about such a great harvest of souls. So far, including the 80 baptisms that I was a part of on my trip, there have been over 550 precious souls brought to the Lord! Truly, this was a work of the Lord!
Are there others like Juap on the online Student Board ready for adoption? Only God knows! Will you obey God's call to share the Gospel and let Him perform incredible works through you?
Get started today! Apply to become an online Study Helper at worldbibleschool.net/teach.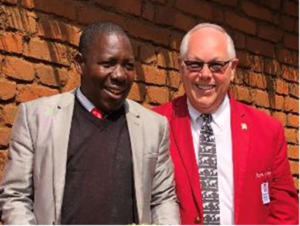 Recent Update in Malawi!
I returned to Malawi this year to continue to teach the former Pentecostal members to remain grounded in their faith. They were excited for my visit and invited others to join in the studies. During my visit there were 111 more baptisms. The fields are truly ripe for harvest in Malawi!