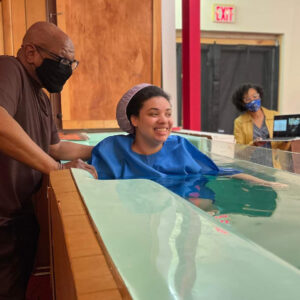 Having a close friend can always be so meaningful. Sharing good times and special memories go a long way. Two sweet ladies, Senay Tucker and Nyjah McCoy, who were roommates in Wilmington, Delaware, chose to study World Bible School's Online Lessons together. Craving to learn the truth about Jesus Christ, both ladies quickly fell in love with the WBS studies, eager to learn all they could from God's Word!
As the ladies progressed through their studies, each had their own separate Study Helper. Frank Calloway studied with Senay and Rose Moore studied with Nyjay. Neither Study Helper was aware their Students were studying together.
After completing their lessons and requesting Follow-up, Nyjah and Senay contacted one of the churches of Christ recommended to them in their area. Within less than a week, they started a Bible study with Frank Watson, the minister of the Northeast church of Christ in Wilmington.
On Easter Sunday, both ladies chose to be baptized into Christ. There is no doubt the two were filled with joy and exuberance as they became sisters in Christ! Nyjay said, "The water was extra cold, but how glad I am for taking that step!" Both Senay and Nyjah's family visited the Northeast church of Christ for the big event. Seeds continue to be sown through these sweet ladies' response to the Gospel of Christ.